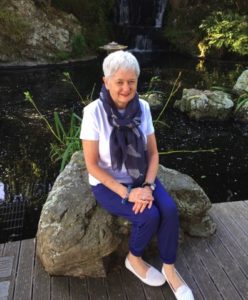 Joanne's a poet, self-publisher, book reviewer, workshop presenter and social worker who lives in Calgary, Alberta. She's the author of five short form poetry collections. Her poems have won awards and have been translated into many different languages. They also appear in anthologies and journals, both print and electronic. She's a member of Haiku Canada, Tanka Canada and the Writers Guild of Alberta. In keeping with her love of brevity, she likes short quotations such as this one by Emily Dickinson: "I dwell in possibility."
The photograph of Joanne was taken by her husband Wayne in New Zealand. Together they've traveled to five of six continents and and they believe that when you are tired of traveling you are tired of life, to paraphrase the words of Dr. Samuel Johnson, who said, "When a man is tired of London, he is tired of life." Joanne and Wayne enjoyed their visit to London, even in the pouring rain! They also liked Paris, Rome, Naples, Florence, Dubrovnik, Athens, Ephesus, Jerusalem, Cairo, Taiwan, Hong Kong, Tokyo, Singapore, Hawaii, Tahiti, Sydney, Christchurch, Lima, Buenos Aires, Rio de Janeiro, Puerto Vallarta, Cabo San Lucas, Panama City, Roatan, Ocho Rios, Fort Lauderdale, Nashville, Las Vegas and many more! These places, plus her very own backyard, inspire Joanne's poetry.
To learn more about Joanne's poetry and buy her books, feel free to explore this website. (See even more of her poetry on her Facebook and Twitter pages.) You can also contact her to arrange for a poetry or poetry related workshop or just to ask questions. Hopefully, she can answer them!